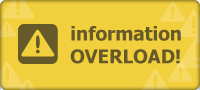 Sometimes, the best way to gain traction is to stop.
At this time of year, we spend a lot of time in strategy meetings with clients to help them put together a budget and strategy for meeting their growth targets. After a big brainstorming session, we usually end up with a table full of sticky notes of issues they need to tackle. At this point, they're either:
1) Excited to get started.
2) Overwhelmed by the issues we've uncovered.
3) A little of both.